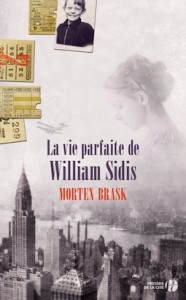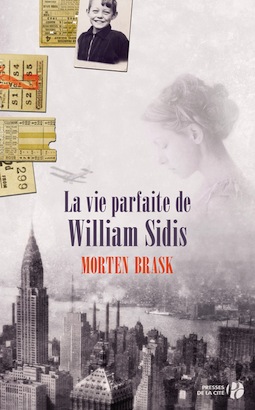 The novel about the prodigy William Sidis "The perfect Life of William Sidis" is released in France june 2013. Titled "La Vie parfaite de William Sidis" it is translated by Caroline Berg and published by Presses de la Cité.
From the French back cover
Dans son deuxième roman, Morten Brask retrace le destin passionnant et tragique de William James Sidis (1898-1944), considéré comme l'un des plus grands surdoués de tous les temps.

C'est en 1910 à Harvard que William Sidis donne sa première conférence devant un parterre composé de quelques-uns des professeurs et chercheurs américains les plus éminents. Alors âgé de 11 ans, il est déjà étudiant de cette prestigieuse université. Le lendemain, tous les journaux titrent sur le « phénomène » Sidis : lecture du New York Timesà 18 mois, maîtrise du latin et du grec – qu'il a appris seul – à 3 ans, rédaction d'ouvrages de grammaire, d'astronomie et d'anatomie à 8 ans, âge auquel il avait même déjà inventé une langue, le Vendergood. D'aucuns prédisent qu'il sera le prochain Newton ou Euclide.
Alors pourquoi l'histoire n'a-t-elle pas retenu le nom de Sidis ? Qu'est-il arrivé à cet enfant prodige que ses parents n'ont cessé de pousser ?
(Traduit par Caroline Berg)