Blondanett – a prostitute´s diary is Morten Brask´s description of a Danish prostitute´s world.
After listening to sound recordings made by Copenhagen prostitute "Blondanett", he interviewed her and the book contains not only a description of the, at times, very tough life led by a prostitute, but also a detailed portrait of the woman Blondanett, her past, present life and thoughts about her future.
The book made newspaper headlines at its publication and the author was a guest in talk shows and radio programs. The book has also been published in Norway and Sweden and has been released as an audio book by Audioteket.
The book has been translated into Swedish
Blondanett en massagepiges dagbog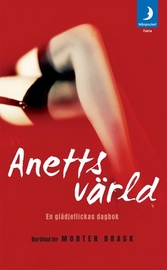 Blondanett – en massagepiges dagbog er en skildring af en dansk prostituerets verden. Bogen er baseret på lydoptagelser af den københavnske prostituerede "Blondanett", og rummer ikke blot en skildring af Anetts verden og det til tider meget barske liv en prostitueret lever, men også et indgående portræt af mennesket Blondanett, hendes fortid, nutid og tanker om fremtiden.
Bogen nåede avisforsiderne ved udgivelsen og deltagelse i tv- og radioshows. Bogen er oversat til svensk og er udgivet som lydbog på Audioteket.
Download uddrag fra bogen her.
Bestil "Blondanett" på dansk her.
Bestil "Anetts värld" på svensk her.
Bestil "Blondanett" som lydbog her.